Social media is an essential element of any OSINT investigation: they allow you to quickly find valuable data about users. In particular, you can analyze people's habits, interests, preferences, favorite places, and much more.
Therefore, you can easily do OSINT on Facebook; it is a pretty valuable source of information. This social network has about three billion active users and, consequently, is vital for those who want to conduct high-quality online research.
City residents actively use social networks to stay in touch with their relatives, mates, and colleagues. Facebook also allows you to make new friends quickly. Today it is a large corporation offering its users various information products and functions, although initially, it was a small startup created for real-time communication.
There is no doubt that each profile page contains much helpful information that can be used for analytics. This data helps you determine preferences, antipathies, emotions, relationships, location, actions, connections, etc. For an online researcher, this data can be beneficial.
For example, if a social network profile is available to everyone, anyone can collect data about the user and apply it to achieve their goals. We warn you that not every profile and photo is real. The avatar can include animals, sculptures, nature, or cartoons.
OSINT and Facebook
Facebook has many interesting things, and each user can choose different options at any second:
friends and close friends
groups
marketplace
videos, live videos, movies
events
memories
saved pages
games
jobs
recommendations
city guides
crisis response
device query
recent promotional activity
Many professionals use Facebook as the leading online platform for collecting user data. Open-source intelligence is what these researchers need. If a Facebook user has an account, you can find specific data quickly and easily. Nevertheless, even though many users do not care much about security, social network administration does it for them. In particular, Facebook has removed all Graph Search tools.
Most Popular OSINT Facebook Tools

Maltego is one of the most helpful OSINT tools for Facebook. In addition to investigating individuals and organizations, you can check how secure your data is.
Using Maltego will help identify connections between individuals, geolocations, businesses, email addresses, etc. It is an open-source tool that runs on Windows, Mac, and Linux. According to the company: "Maltego is used by a wide range of users, from security professionals to forensic investigators, investigative journalists, and researchers."
The site has a free tutorial that takes about an hour of your time. There are many research tools, but the most popular modules for working with Facebook are the SocialLinks and Social Net modules.
You can get and track a person's online status with this app. It won't give you information about email, location, or other general information, but you can see when your target connects to the social network and when they disconnect. This way, you can quite accurately determine their daily routine. What's nice is that the utility is completely free.
Intelligence X is an open-source software product that can be used for any analytics. In addition to the Facebook Graph Searcher module, which allows you to enhance your Facebook search, Intelligence X has several unique features:
– The search engine can search for information on platforms where data is exchanged and on the dark web databases that have been leaked to the network.
– It can save previously issued results and display them as an archive.
– Intelligence X can work with clear search terms such as:
IPFS hashes
Electronic wallet addresses
URLs
CIDR
IP addresses.
The second part of the Facebook Graph Searcher module allows you to perform alternative searches on posts, people, photos, places, etc.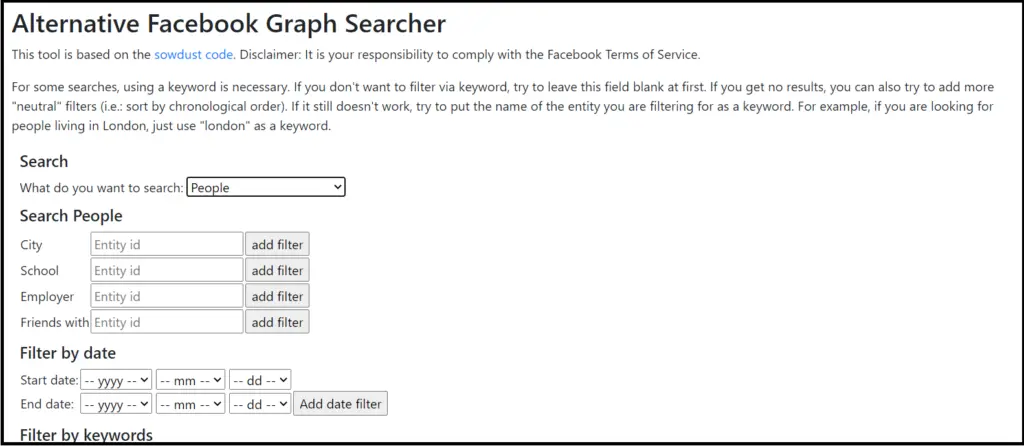 SecurityTrails is one of the world's largest repositories of historical DNS data. These data can be helpful for researchers and security companies. For the latter, it is essential to drill down and identify suspicious changes in the DNS.
As far as Facebook is concerned, SecurityTrails is great for exploring its entire infrastructure. Let's see how it works.
To get started, go to https://securitytrails.com/
Enter the search query "Facebook.com"

3. The full interface will appear with all the details related to Facebook

Here we can get information about the domain name including DNS records

Data can be filtered and saved in the form and structure you need. The built-in powerful Template Toolkit allows you to apply additional logic to the results and output data in various formats, including JSON, SQL, and CSV.
Additional use cases:
Collecting information about the hosting provider of subdomains
Getting subdomains and their Rank
Collecting history about A, AAAA, MX, NS, SOA, TXT
Collecting domain A, AAAA, MX, NS, SOA, TXT DNS records
Getting a Subdomain Mail Provider
Conclusion
Facebook is one of the most popular social networks, and this is what makes it a target for those who are trying to find more information. It is worth noting that the company is constantly working to make the use of Facebook more secure and protect user data, but still, no one is immune from surveillance or analysis.